Melissa Parhm for the Graduate Theological Union in Berkeley, CA, 2023
Melissa Parhm, currently enrolled in the Chaplaincy program at the GTU, is a classically-trained artist who works in oil, watercolor, metal point, fiber, sculpture, ceramics, fresco, and fresco restoration. She portrays the depths of her understanding of nature, patterns and illuminations, the human spirit, her connection to the environment, and her spiritual practices.
https://www.melissaparhmfineart.com/
The following article describes Melissa's experiences of pilgrimage as it relates to the creation of these artworks, which continue to inspire her art, spiritual formation, and life.
Melissa Parhm
Wind, T'so Pema, India
Oil on Canvas
48" x 36″
While on a Pilgrimage with H.H. Chagdud Tulku Rinpoche in the Himalaya Pradesh region of
India, I visited the "Lotus Lake" or Tso Pema, where the wind fiercely blew the prayer flags.
Suddenly I saw a monk take his seat under the trees. The contrast between the meditative
stillness and the movement of the wind through the prayer flags was striking. I stood still in
awe. As I reflected on this moment, the poem from the book, Magic Dance, by H.H. Tinley
Norbu Rinpoche came to mind. Here, he is reflecting on the five elements and specifically the
element of air.
"You are so light. Whoever wants to rise, If you don't exist, Cannot rise, Whoever wants to
move, Cannot move. Whoever wants to smell, If you don't exist, Cannot smell. Whatever our
actions, You are always moving Weightlessly without complaining. But we envious beings are
always ungrateful, Fanning you, Calling you Air."
Wind: Tso Pema, India
One morning at Rigdzin Ling Chagdud Tulku Rinpoche said he thought it would be a good idea
to go on pilgrimage again. When asked how soon, he replied, "I think now going!" This began a
mad rush of plans to visit many of the holiest Buddhist sites in India and Nepal—tracing
significant events in The Buddha's life in India and Guru Rinpoche's holy sites in Nepal. About
a week later, Rinpoche and a dozen students landed in India. To Rinpoche, "pilgrimage" is a
verb, a manifestation of his ceaseless activity and intention to create merit and benefit for others.
I had little understanding of pilgrimage, but I knew that it has always been very important to
Rinpoche, and so I wanted to join him and see what it was all about." [3]  
I had the privilege of traveling with His Holiness Chagdud Tulku Rinpoche from 1999-2000; he
continuously emphasized that this was a precious opportunity.  He not only took us to very
sacred places but also to meet many amazing teachers.  We lit 100,000 butter lamps both at the
Bodhgaya Stupa in India and 110,000 at the Great Stupa of Boudhanath in Nepal. He repeatedly
emphasized generosity during our journey. Both physical generosity and the practice of
visualizing offering to others, a method to offer with our minds all of the precious things we saw
on our journey and whatever else our minds could conjure. We recited both together and
individually hundreds of thousands of repetitions of an aspiration prayer for the benefit of all
beings.
He took us to many holy pilgrimage sites, including the famed Guru Rinpoche caves and the Tso
Pema (Lotus Lake) in Rewalsar, India. Here is where my painting, Wind, was conceived.
"At Parping we performed tsok, a sacred feast ritual, outside the Asura Cave, where Guru
Rinpoche took monastic ordination and where he left his handprint in stone outside the door. In
response to their requests, Chagdud Tulku Rinpoche gave refuge vows to the children on the
pilgrimage. We also visited Chatral Rinpoche's gompa and Yangleshod Cave, where Guru
Rinpoche bound the Vajrakilaya protectors to an oath of allegiance and requested that they
protect the dharma.
In remote mountains far from Kathmandu are the Maratika Caves, where Guru Rinpoche and
Mandarava attained the siddhis of longevity and deathlessness. The voyage is arduous—either a
six-day hike or a long ride on a helicopter. We chose the 'copters, and I thought I was somehow
getting off easy with a ride through the air and then a day in a cave with Rinpoche. What a
surprise when our 'copter circled above a huge crowd of people and landed in their midst…The
local Hindus, who also hold the caves as a power spot, were amidst two days of fervent prayer 
and offerings." [4]  
There were hardships to endure, sickness, and even a minor bus accident. Yet, for me, the pilgrimage with His Holiness Chagdud Tulku Rinpoche was magical. I survived and thrived, even after drinking chai tea, which I later noticed, was served out of an empty paint can! On pilgrimage or at home, nothing phased Rinpoche; he went out of this way to guide us to many sacred sites and meet and practice with many masters of the Buddhist lineages, including the young rebirth of His Holiness Dudjom Rinpoche, Sangye Pema Shepa, and Kyabje Mindrolling Trichen Rinpoche. After the pilgrimage ended, I stayed and continued on my own personal journey, including meeting the young reincarnation of His Holiness Dilgo Khyentse Rinpoche. I was invited to tutor the young Dezhung Rinpoche IV, and I journeyed alone to the Annapurna Himalaya to trek the Annapurna Circuit. I then returned to Bodhgaya to receive teachings from His Holiness the Dalai Lama. My New Year's Eve flight to Bodhgaya was in itself a pilgrimage, and I was in heaven, for there were many excellent teachers who were traveling to attend the teachings of His Holiness the Dalai Lama. Arriving at the teachings was profound; giant banners hung that quoted His Holiness, stating, "wishing happiness for others is the cause of all happiness; wishing happiness for oneself is the source of all unhappiness." These words sum up the essence of pilgrimage for me.
---
[3] John Swearanger, "Pilgrimage in Nepal", Windhorse Archives, Summer 2000.
[4] John Swearanger, "Pilgrimage in Nepal", Windhorse Archives, Summer 2000.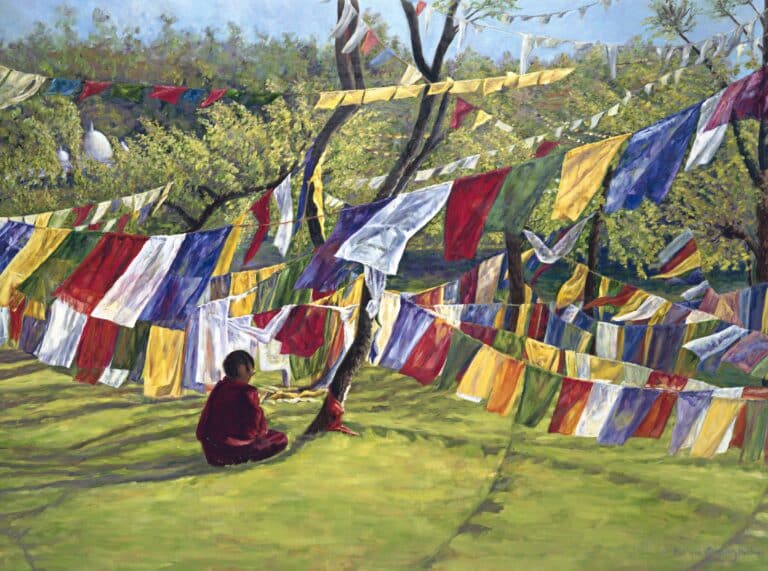 Melissa Parhm
His Holiness Chagdud Tulku Rinpoche Napping in Lion's Pose
Graphite on Paper
12″ x 16″
New Dehli, India 1999-2000
Odsel Ling Stupa: Sacred Space #1 Big Sur, Ca. 
I'm inspired to create art that reflects sacred spaces. I was asked to design a stone stupa for the
Dharmata Foundation's retreat center, Osdel Ling, in Big Sur, CA. The retreat center fell victim
to the wildfires in 2016. I created a watercolor painting for the foundation that reflected my
vision and inspiration for the reconstruction that included this sacred structure for the land.
Sacred Space 1: Sweetwater Stupa: Odsel Ling, Big Sur, California
Anam Thubten Rinpoche established Dharmata foundation's Sweetwater Hermitage in Big Sur
as a place for practitioners to engage in solitary and small group retreats. The Ohlone Costanoan
Esselen Nation were the original occupants of this land, and similar to the reverence Native
American tribes hold for the Earth, Tibetans also consider the Earth sacred.  Many structures at
Sweetwater Hermitage burned in 2016 when a wildfire swept through these sacred mountains. In
the fall of 2022, Anam Thubten Rinpoche and a few of his students, along with Lama Lakshey
Zangpo Rinpoche, traveled to Sweetwater for a weekend of work and Buddhist practice. This
was the first time I had seen Rinpoche in person since 2020, and it was auspicious that Rinpoche
invited us to experience this retreat as a pilgrimage to this sacred land.
During our stay, Rinpoche took us on a hike through the land where he "gifted the land with
auspicious trail names" after many great masters from the Longchen Nyingthig lineage who
spent time at Samye Chimpu, which are caves above the Samye Monastery in Tibet. One can
now travel the "Samye trail" and feel instantly connected to Tibet and these great masters.
It was said by Lama Lakshey Zangpo Rinpoche and other lamas who have visited Sweetwater
that the landscape there, with views of the vast blue sky and mountainous terrain, very closely
resembles Samye Chimpu. Some even joke that Sweetwater Hermitage is the "American Samye
Chimpu."
"Samye Chimpu is known for having a very strong connection with Padmasambhava, Yeshe
Tsogyal, and Jigme Lingpa. There is even a reliquary stupa at this sacred site dedicated to
Longchenpa." [1]
We were fortunate to discover a few stones the Esselen tribe had used for grinding grain. We
experienced the stark contrast between the black of the burnt trees and new green growth
sprouting, witnessing the Earth in a state of renewal. As we hiked, Rinpoche said to try to
envision we are actually at Dakini Ridge, Akanisha, Freedom Ridge, Matchig, Bodhi, Samye,
and Moksha, to invoke a sacred state of mind. He reminded us that all is sacred, and we are
consecrating this place as being of the same nature. Even the campsites carved out amongst the
burned-down structures, and pristine mountain spaces were blessed with sacred names such as
the Vajra and Kapala Tipis. Rinpoche spoke of the hardships pilgrims endure to travel to holy
places, just bringing the bare essentials along. He said, "this is a good practice that we lack in
modern life." He invited us to go on "an inward pilgrimage," for this can be the most challenging
yet always within reach. Rinpoche states, "the main objective of going on pilgrimage is to pray
and meditate; to experience karmic purification and gain wisdom and insight into the nature of
reality." [2]
I set my intention to journey to these sacred sites, make the journey, and finally arrive. Here, I
drop my bag, preconceptions fall away, and I allow myself to let go and open my heart fully. I
am in solidarity with all those who have made the pilgrimage. We are connected through this
holy place in faith and reverence.
---
[1] Megan and Rob Larson, Sweetwater Hermitage Odsel LIng, Gratitude Newsletter, 2023
[2] Anam Thubten Rinpoche, Pilgrimage, Buddhistdoor Global, 05,15,2019.
www.melissaparhmfineart.com 415-377-7946 mparhm@gmail.com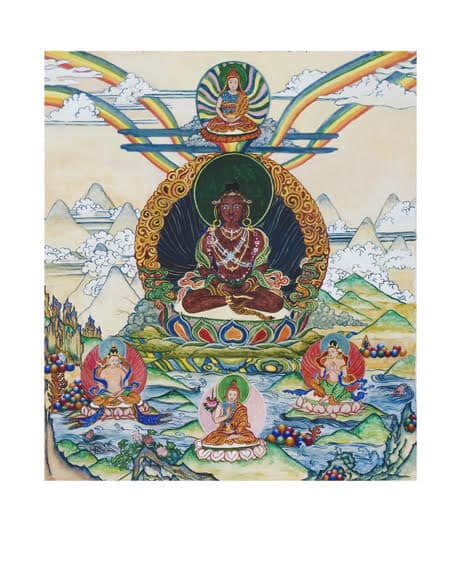 The pilgrimage that inspired the painting, "Two Angels", began in 1985, when artist Deborah Lanino traveled to Italy, and saw the churches and museums and an exhibition in Vercelli, commemorating 400 years since the death of her ancestor, the Renaissance painter Bernardino Lanino (1512-1583). 
Deborah, based in Los Angeles, is known for her contemporary use of color and classical techniques such as chiaroscuro and sfumato. Her recent series: "Faith" features "Two Angels"  and many more works inspired by that ancestral and art-infused pilgrimage. www.deborahlanino.com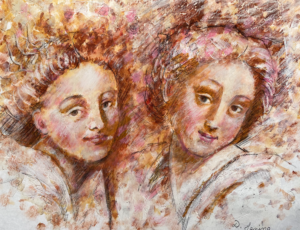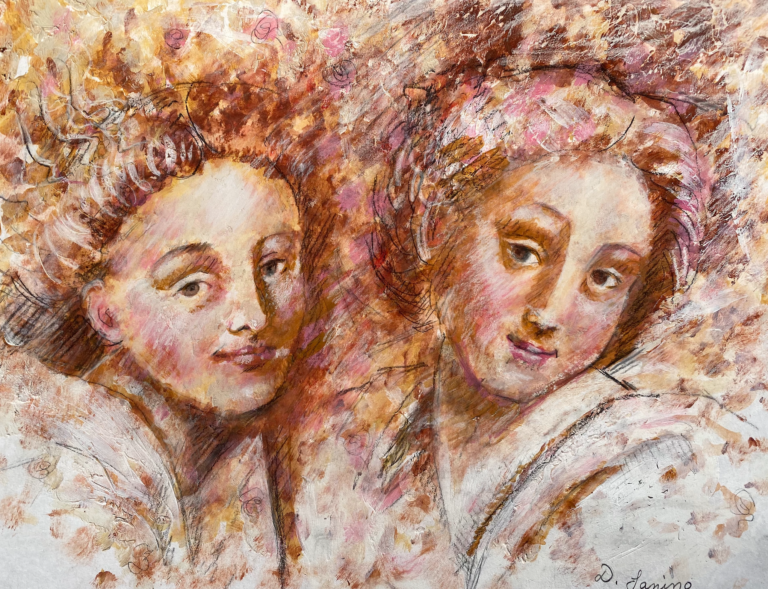 Two Angels by Deborah Lanino-Acrylic and charcoal on paper (2021)
Come with us!
we plan to go
most itinerantly, shuffling
or rapid as our longing takes us
with our eyes fastened on every-
thing our feet wander us past
scallop shells pinned
like hearts to our sleeves
sleeves flapping open
cuffs of our jeans muddy
at night in circles lit by fire
we tilt our faces to the stars
and sing
we are loud offkey fierce
come morning
the earth has soaked up
everything we shed
the day before